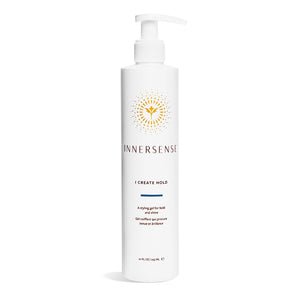 A styling gel. Best for medium to thick hair textures.
Achieve sustainable shape from roots to ends with this styling gel formulated with Certified Organic honey that acts as a natural resin, and rooibos tea for antioxidant rejuvenation. Nettle and rosemary extracts combine to add incredible shine and powerful hold.
DIRECTIONS FOR USE:
Take a deep breath and become centered. Section wet hair and distribute 1-2 pumps into fingertips, raking from roots to ends. Diffuse, air or blow dry to define texture and style. On dry hair, apply 1 pump to fingertips for structure and hold.

Natural oils in this product may cause staining on some fabrics. If air drying hair from soaking wet, we recommend covering clothing with a towel until dry.
KEY INGREDIENTS:
Honey — is a humectant, which provides moisturizing benefits for hair and skin. Honey also acts as an anti-irritant, making it ideal for sensitive scalps and skin. It also offers light hold when styling the hair. Aloe — This versatile ingredient gives hair strength and a silky texture. Brings fullness and manageability to the finest hair. Rooibos Tea — With 50 times more antioxidants than green tea, it has been called the "miracle tea" for its tremendous healing powers and anti-aging properties.