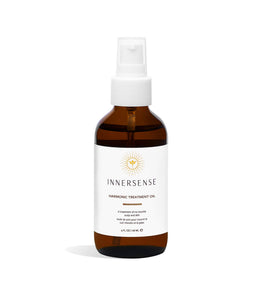 Harmonic Healing Oil is now Harmonic Treatment Oil! The formula you love is the same, but now the name is consistently labeled across the globe.
A treatment oil to nourish scalp and skin and increase moisture.  A high vibration treatment oil to nourish hair, skin and nails.

Size: 1 oz, 4 oz.
Nourish the scalp and skin with this rich treatment oil. Formulated with flower essences and oils, including evening primrose, macadamia and tamanu, to balance skin and scalp health and nutrition
Ideal for everyone
Fragrance note: Lavender
DIRECTIONS FOR USE:
Take a deep breath and become centered. Apply 1-2 pumps to fingertips and gently massage into the scalp to deliver nourishment and return natural balance.
KEY INGREDIENTS:
Tamanu Oil (Certified Organic) (INCI: Calophyllum Tacamahaca Seed Oil) – A fast absorbing oil with a high concentration of lipids and antioxidants that soothe and nourish the scalp with a weightless feel. Safflower Seed Oil – is rich in protein, vitamins, and minerals, this is a mild, nearly odorless oil which absorbs quickly and is non-greasy. Jojoba Seed Oil – his beautiful golden oil is extracted from the bean like seeds of the jojoba desert shrub. A soothing, non-greasy, nourishing oil for all skin types, this natural oil (actually liquid wax) most resembles our own skin oils. It is excellent for use in dry to normal skin and hair care. Camellia seed oil (tea seed oil) – Promotes healthy skin with anti-inflammatory and mildly astringent qualities.